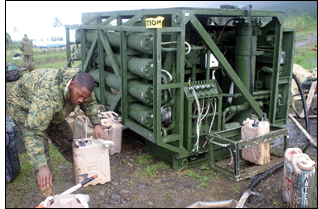 Burner Technology & Research converts waste into value by develop technologies and their applications.
BTR is a Turbine Services Provider, saving businesses money on their power – both electricity and heat – while requiring zero upfront capital by the customer. Learn more about this service by downloading our brochure here.
BTR is also the developer of the Supplemental Recovered Thermal System (SRT) – making possible water desalination and purification from low-grade waste heat. For both military and commercial applications, SRT can provide a reliable, flexible and cost-effective means to purify water.
For military applications, SRT systems recover low temperature waste heat from a variety of input sources, including tactical power generators and biofuel powered systems.
SRT also provides for expeditionary water desalination and water purification from highly turbid and contaminated water sources. When used in concert with Reverse Osmosis (RO) systems, SRT significantly reduces energy used per gallon of water delivered. Learn more about how SRT increases the output and efficiency of existing water purification systems here.
SRT provides this using reliable, low cost Commercial Off-The-Shelf (COTS) Technology – SRT systems are based on proven commercial technology that emphasizes minimal maintenance requirements. System temperatures and pressures are low, enhancing thermal efficiencies while reducing costs of components and materials. Unlike reverse osmosis (RO), SRT does not require the use of RO cartridges, which must be regularly replaced and refurbished. SRT accepts both waste water and waste heat from RO systems. This increases overall water output and reduces energy used per unit of production when used to in concert to increase RO system efficiency.
View up-to-date, independent SRT water test results here.